Looking for proxies to secure your web activities and bypass the ban? Listed below are the best proxy scrapers that can help you harvest proxies from different websites to boost your aim and mask your identity.
With the outburst of online activities, the gathering of data for big projects comes with several restrictions. Favorably, with the help of well-suiting proxies, such can be figured out. And as a result, relieved you of IP ban, throttling, and CAPTCHAs. One thing that should always come to mind while surfing online is to understand that the more data you try to extract from the internet using a single IP address — the more likely you will get exposed.
But with proxies, you can access any website of your choice and collect as much data as you want limitlessly without any detection. Also, content from geo-restricted locations can be extracted. Though the take-home is worth it, the question is; How do you acquire proxies that can cater to these web activities?
Oftentimes, paying for proxies that aid this can be expensive, which is why many marketers and non-coders opt for getting free proxies from public websites. To do this calls for proxy scrapers. Proxy Scrapers are software or tools used to harvest proxies details from several websites.
However, since getting spotted can't be predicted, having proxies set aside for safeguarding can only make more sense. Therefore, if you're looking for ways your online data extraction activities can be proxy-integrated, then you are in the right place.
Proxy Scraping — Overview
Proxy scraping is the process of harvesting free proxies from public websites. This can be from forums, platforms, blogs, or URL links, among others. Consequently, this process cannot be pulled through without the applicable tools or software. What this means is that, for you to be able to scrape proxies for your web activity to bypass restrictions and ban, you need a tool for the process — and this writing will go down more on that.
Integrating web activities with proxies is becoming the new trend many businesses use while trying to extract data. As such the challenge some face is how to tell which of the tools work well. Thus some will be recommended here that can be used to extract proxies to foster and protect your web use cases.
However, with the thorough research carried out, we come to realize that most proxy websites and platforms do not permit scraping. In fact, you will come to discover that some of them can be tricky in making it difficult for you to scrape the free proxies on their site. Some will want you to make use of their limited API in a bid to get you to pay for their API service.
However, with the right proxy scraper, you can succeed at scraping them.
---
Best Proxy Scrapers
With the aforesaid above, it can be understood proxy scrapers are an integral part of any online marketing, be it small scale or large. So if you are allured in this, in this Article are recommended best proxy scrapers that you can opt for. Now let's take a look at them.
---
1. NetNut Mobile – Ramp up Your Web Scraping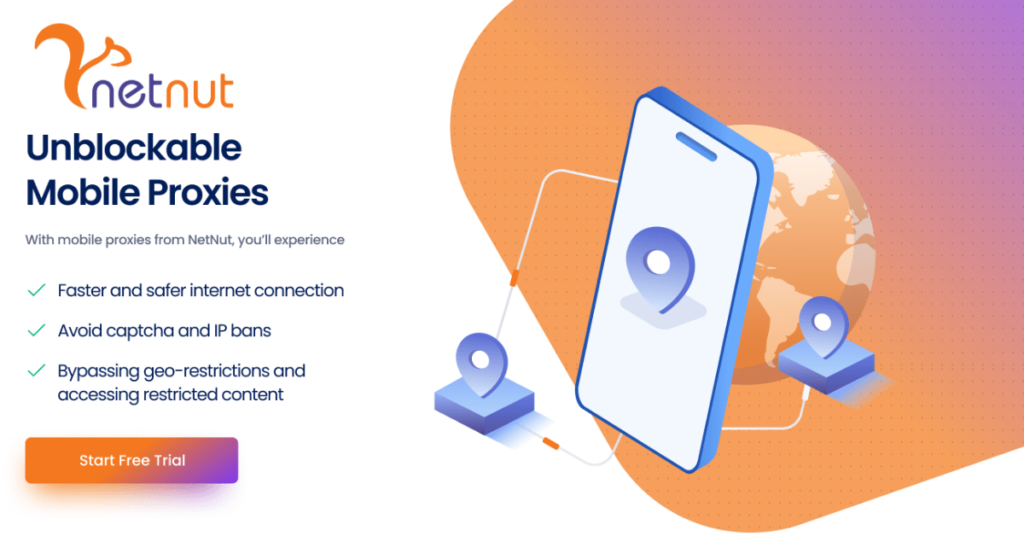 Get ready to ramp up your proxy scraping with NetNut's high-speed mobile proxies. You'll have access to an extensive network of over 1M+ mobile IPs from around the world, making it effortless to gather web data.
With NetNut's proxy scraper, you're not just checking proxies – you're selecting the best of the crop through thorough testing. This means no more worrying about IP blocks, CAPTCHAs, or reCAPTCHAs – NetNut's smart system takes care of them for you.
NetNut takes seriously online security. They collaborate with multiple ISPs worldwide to ensure your data's security and integrity. Their strategically set up servers can process a ton of traffic, providing robust reliability and security with a failure rate of less than 1%. This scalability makes NetNut Mobile proxies a perfect fit for all types of web scraping tasks.
The user-friendly dashboard empowers you to keep a real-time eye on your bandwidth usage. Whether you're part of a team or a manager, you'll find it a straightforward business to monitor and control your mobile proxies across various devices.
You can begin experiencing the power of NetNut by taking advantage of the 7-day free trial. Better still, commit to a paid plan and have their full offering at your fingertips. Paid plans are geared towards businesses, both small and large.
---
ScrapeBox is a Windows-based software that has been in existence since 2009. Just like GSA, it has stood its ground firmly in terms of being a proxy scraper. It can harvest thousands of proxies with a simple click and use them for multiple tasks.
It has 22 built-in proxy sources it extracts proxies from. When using ScrapeBox, proxies are filtered by speed, country, and port. Hence, faster, anonymous, and Google proxies are kept. Scraped proxies are checked if they are useful using a proxy tester.
What will interest you with this tool is, with the proxy scanner, you are free to add the site or configure where you want to harvest proxies from. This can be a blog, an individual post, or a website URL link. And the harvested proxies can further be saved so fresh proxies can always be accessed for SEO, digital marketing, and other use cases.
---
When talking about proxy scrapers, Apify cannot be left out. It is one of the scrapers that searches for a wide range of websites from 17 public sources and scrapes all the proxies. These sources often yield 2500 proxies at a run of which 20-60 can be recorded to work well.
Apify is likely a go-to point for many because the proxies collected are tested to affirm its quality level, security, and as well speed rate. Most of all, it's automated to fit in the appropriate use being sourced for.
When it comes to their packages and pricing, they are quite flexible. Packages range from free plans with limited features and it kickstarts with $5 down to paying plans. The paying plans are divided into three segments — personal, team and enterprise.
Take note that plans are by the content you want to scrape. However, if your work is only limited to web scraping, residential and datacenter rotating proxies with huge IP pools are given to you to foster your workload.
---
Somiibo is yet another known name in terms of a proxy scraper. They offer both free and premium base proxies that can be used to automate any sort of web activity. Be it social platforms or not, there are harvested proxies that are suitable. Somiibo works in modules i.e., an individual bot or script.
For example, you can run the Instagram module to grow your Instagram and simultaneously run the SoundCloud Play generator module. While free plans have limited proxy use, premium plans are unlimited with zero ads and multiple threaded sessions.
The tool can harvest and check thousands of proxies in seconds, so no need for the personal addition of other sources. All scraped proxies are arranged on preferred document formats. The proxies are searched and scraped based on features which can either be by protocols (HTTP and SOCKS4 & SOCKS5), by anonymity (transparent or elite), and by country.
---
If you're looking for a Web-based proxy scraper that can work regardless of your device type, then ProxyDB is for you. This is a free tool that can scrape quite interesting numbers of proxies irrespective of the website and use case. Going through their platform interface, you can tell it's self-explanatory and easy to understand. The good thing about this scraping tool is that it's for general i.e. its accessibility is publicly available for everyone.
If you pick interest in this scraper, all you need to do is to input the URL of your website of interest and you are good to go. Up to 10 URLs can kickstart the scraping exercise. Additionally, it has a proxy list you can choose from. There is also a proxy extractor where you can copy and paste the text of your website of choice — and the tool will extract the proxies within this text. Although it's a recommended tool, one downtime of it does not have an in-built tool for testing the scraped proxies to know if they will work or not.
---
IP Proxy Scraper is software that is compatible with just Windows and Linux. It is a flimsy tool that can be retrieved from SourceForge. If you are drawn to using this tool, all that is required of you is to input the website URL and your proxies will be scraped. The harvested proxies will then be outputted in your OS usage form, ready to be copied and saved to your preferred location.
With IP Proxy Scraper, there is accessibility to exact proxy IPs and port types. Even though there are already sourced proxies you can choose from, there is room to add your precise website to be scrapped for specific purposes. Moreso, multiple proxies can be extracted for different tasks with just a single click.
---
Want better and faster proxies? then ProxyScrape is what you should go for. The proxies offered here are both free and premium. Looking at the freemium, there is the availability of a free proxy list with support for HTTP, Socks4, and Socks5 proxies. This proxy list is said to be updated 24/7. What is even more likened about ProxyScrape is that it has a proxy checker that can ascertain and affirm the good from the bad extracted proxies. Also, there is a filter that assesses the proxy list in terms of its anonymity, SSL, and country coverage.
But if what you want is a proxy for specific web activity, there is a scraped web proxy that is free and supports well-known websites such as YouTube, Google, Facebook, and Twitter among others. Mind you, if your activities require the usage of residential or datacenter proxies, then you have to opt for a premium plan to garner proxies for such a use case.
---
Proxy List Scraper is a Chrome Extension proxy scraper. It is a very flexible yet powerful tool that uses only one browser for its activities. So if what you leverage more is Chrome Extension, then this scraping tool is highly recommended. It is easy to use with a friendly interface. Looking at its usage, it's quite understandable.
All you are required to do is to choose the website you want and the Extension scrapes the proxies. The acquired proxies can then be accessed and copied to your system clipboard or exported to a text file. The choice is yours wherever you choose to save the proxies. Proxy List Scraper is a good pick but one challenging thing is that it has no testing tool to check if these proxies will be viable or not.
---
ScrapingBee offers both premium and free proxies.  Getting down on the free ones, it comes with its own proxies API to aid possible data extraction. Its activity is based on the use of chrome and JavaScript which will aid a fast extraction process. Since ScraperBee free proxies are unlimited, it will help secure any use case. What's good about this scraper is its large proxy pool which helps bypass geo-targeting websites and upscale scraping activities quickly.
With the proxies rotating, IP addresses change at a set time to ease the heat of any restriction. Using its API, you can opt for general web scraping without getting blocked. This API feature makes it more flexible to access other use cases. However, no need for coding, if coding is not your thing, you can still opt for it.
---
If you're looking for a completely free proxies list site, then Free-proxy.cz is the phenomenal option. This platform has been evolving for so long, hence it is one of the oldest. Unlike others, it has a specified web proxies list that will help you extract your data of interest anonymously. Checking on what is offered, proxies are available to be extracted in all protocol types, be it HTTP, HTTPS, and all the socks. One interesting thing about this site is that proxies can be filtered based on country, protocols, and anonymity.
Since the site is free, there is no paid or premium version of any sort. The IP addresses are pre-filtered, hence already pre-defined to rotate. There are presently and currently 2604 proxy servers in their databases. Additionally, you can know the speed, uptime, and as well response time of each proxy depending on the location.
---
Just like free-proxy.cz, Spys.one is another free proxies list site that has been up on solid feet since 2008 and still working well. The proxies and tools run in two major languages — Russian and English. Having perused their official website, they offer a large number of free proxies that are compatible with any web activity.
There is the availability of 37,524 free proxies cutting across 181 countries as of the writing of this article. The amazing thing with Spys.one is the legitimacy of the check date. All proxies can be assessed and checked to know which is still active and not.
What will grip you more is the filtering method which is by cities and ASN as well other parameters like protocol, anonymity, and country. Although a good choice, the only downside is, you can't export the proxies in bulk. Aside from that, there are lots to enjoy as IPs can be narrowed down to specific proxies types that suit your needs.
---
Proxy Orbit is yet another excellent place where you can leverage in terms of gathering free proxies. With their advanced proxy checking algorithm, proxies are affirmed to work well before saving into their databases for open access. This access is either free or paid proxies depending on your need. Although the features are limited to the free ones but sure to cater to small usability. Therefore, if you aim for a large project the paid plan will do better.
The good that comes with Proxy Orbit is, it has a rotating proxy API that can extract data from any website without any detection or restrictions. Also, it has an unlimited concurrent API that will allow you to run all your scrapers at once. More Amazingly, there is a RESTful API that allows the filtering of gathered proxies based on protocol, speed, and location among others.  Irrespective of the version and plan, proxies access is to all proxy locations and peculiarity is giving HTTP/HTTPS, SOCKS4, and SOCKS5 proxies.
---
ProxyScan is one free proxy site that is easy to use. The free proxies are accessible by types i.e HTTP, HTTPS, SOCKS4, and SOCKS5. Also by anonymity and port number. Many trust this provider because even if these proxies are free, they are subjected to real-time checks every 10 minutes before being added to the list.
With an in-built proxy checker, proxies are organized by set parameters, which include ping, country, city, type, and anonymity level. This is to affirm that the proxies housed are working proxies and not otherwise. However, there is a proxy filter to help filter and scrape more proxies from websites of interest. If you have a website or link in mind, all you have to do is input the URL on the proxy scraper and the proxies will be scraped out by IP port format.
---
Standing tall on this list is the GSA Proxy Scraper. This has been seen to be the best and most dominantly effective when it comes to proxy scrapers. It is an easy-to-use software that can swiftly scrape and test thousands of proxies with just a few clicks.
Hence, enabling you to know which is functioning and not. One thing that sets the GSA Proxy Scraper above others is that it acts as its proxy server. Also, it has an in-built script engine that gives room for self-coding — which will further allow you to test-run scraped proxies.
Additionally, this software compatibility lies with just Windows OS. The Proxies scraped can be filtered to suit whatever format and location of choice. Interestingly, there is an availability of a port scanner that can harvest self-unique proxies no public server can interfere with.
As an added value, what it does goes beyond being a proxy scraper, as it also serves as a Metric Scanner where you can easily check URL SEO metrics among others.
---
FAQs
Q. Is It Legal to Use Proxy Scrapers?
Yes, Proxy Scrapers are legal to use so long as you are not breaking any rules surrounding the targeted websites that house the data you desire. Every website has its terms and conditions and as well copyrighted law. Infringement is one thing not tolerable. Although websites don't like to be scraped, if you work by these rules, many will allow you to scrape their site. But once any malicious act is spotted you will surely be blocked on all grounds.
Q. How Can You Tell if a Certain Scraped Proxy Will Work for Your Web Activities?
This can only be known if the said scraped proxies have been checked and tested to work. One thing you should know is that not all scraped proxies are worth using because not all providers have the in-built testing tool. Some have been badged excellent but via trial-by-error use-case. However, such proxies' effectiveness and credibility can not easily be vouched for even if it's good. It is a 50/50 trial rate. But, if there is a free trial, then all grounds are settled.
Q. Why is Proxy Important for Web Scraping?
Proxy is important for web scraping activities because it helps keep the web scraper's visibility anonymous from malicious hackers on the internet. Just as stated above, not all websites enjoy being scraped. That is why if the website you intend to scrape identifies the IP address of your scraper tool, it can decide not to block you but rather mislead you to data that is time wrecking with zero use.
But using a proxy will help mask your IP address from public eyes while simultaneously scraping data from various websites of interest. Hence no one can tell about your online presence. This is substantial as it is the top peculiarity and vitality of a proxy.
Q. Where Can I Get a Proxy Scraper That Will Work Well?
Although many will tell you there are tons of proxy scrapers in the market, the truth is there are not many proxy scraper tools available. Having done thorough research, we have come up with the above listed you can handpick from to suit any of your web activities.
Though this is not an exhaustive list, they are the ones that have been tested to work well and pull through several use cases. So if you are interested in a proxy scraper, you are covered by using any of them.
---
Conclusion
Scraping proxies to help shield the visibility of web activities has been hugely embraced by many marketers and non-coders. Although several types have been researched, those that made it to the mentioned list have been kept a tab on and proven to yield results. As such, described above are the best proxy scrapers you can choose from to set aside proxies for your web preference and use cases.