Posting a block of posts or text on your Facebook profile can be tedious. This is especially true with humans' reduced concentration span when browsing online, which is about eight seconds.
However, posting texts or content with GIFs images can captivate any online audience. Besides, Facebook posts with images such as GIFs have more excellent recall value to humans than empty texts. So, how can you post Image GIFs on Facebook? Read on to find out….
---
1. Post a GIF on a Status Update
Now that you know what a GIF is, we can discuss how to post GIFs on your Status. Follow the steps outlined below to get it done:
Step 1: Log in to your Facebook account and select 'Make a Post' (web browser version) or Post (on a Facebook app).
Step 2: A list of items will appear below the post field, scroll downwards, and you'll find the GIF feature and tap/click on it.
Step 3: A grid of famous proposed GIFs built by Facebook will appear. Choose the one you prefer, and it will automatically be in your post field. If the available GIFs do not amuse you, use the Search field to find your perfect GIF by typing a particular keyword.
Step 4: Hit the Post button to publish the GIF.
---
2. Post a GIF in a Comment
Facebook limits the posting of GIFs images to the comments section of your post or that of your friends. You cannot post GIF images in the comments section of the pages you follow or have liked. Here are simple steps to posting GIFs in a comment;
Step 1: Navigate to the post you intend to publish the GIF to and Tap on the Comments
Step 2: After opening the comments, Tap the GIF icon on the right-hand side of the commenting field. A list of proposed GIFs will appear.
Step 3: Choose your preferred GIF or type in your keywords on the search field to browse for your ideal GIF. Some of the keywords that you can use are; congratulations, well-done, proud of you.
Step 4: Once you find the GIF you want to post, select it by tapping on it to preview it.
Step 5: If you're okay with the GIF, tap Post to publish it in the comments. Otherwise, tap the X sign to remove it.
---
3. Send a GIF in a Private Message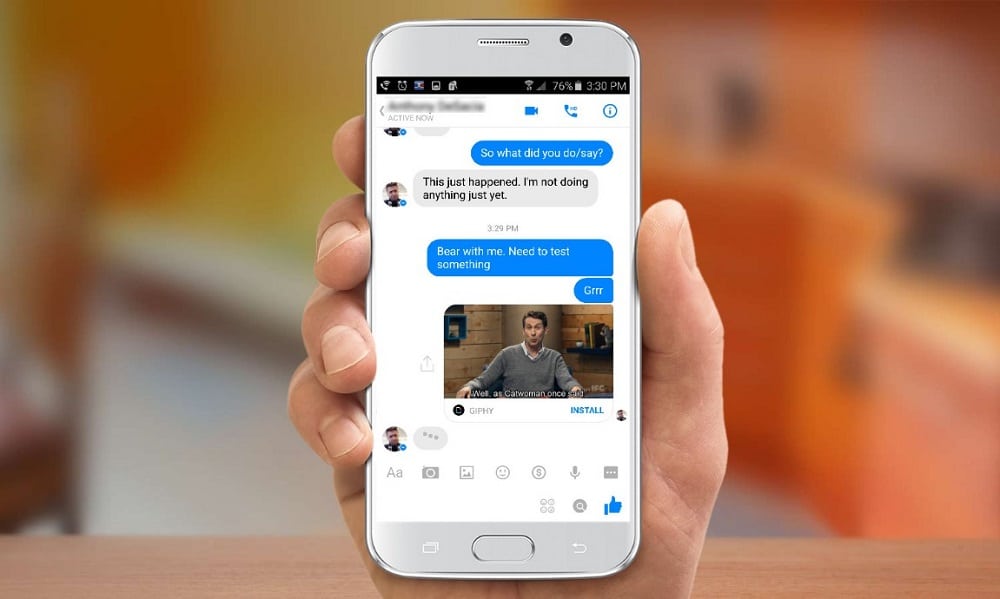 There are different methods that you can use to send private GIFs in direct messages to friends on Facebook. Some of these are outlined below:
---
1. Using Messenger on a Web Browser
When using Messenger on your web browser, the GIF icon is next to other icons on the left of your chatting field. Here is how to send the GIF;
Step 1: Open the conversation with a friend you want to send the GIF.
Step 2: On the left of the chatting area, tap on the GIF icon, and a list of GIFs will pop up. If your desired GIF is not in the list, use the search field to find the particular GIF you want.
Step 3: Select your desired GIF by tapping on it. This action will send the GIF to the person whose conversation you had opened.
---
2. Using Messenger App
You can also send GIFs in private or direct messages via the Messenger app using the steps below:
Step 1: On your messenger app, open the conversation of a friend or group you intend to share the GIF.
Step 2: Tap on the Plus Sign (+), which is on the left-hand side of the chat field.
Step 3: Choose the GIF icon from the menu of icons that appears.
Step 4: Peruse through the list of the proposed GIFs or use the search field to browse for a particular one. Tap on your favorite one to insert it into your message.
---
FAQs
Q. Why can't I post a GIF to Facebook?
There could be two main reasons; you are trying to upload a GIF from your mobile device or computer directly. Or you're posting the GIF to particular brand pages or in an ad. Facebook does not allow the posting of GIFs in either case.
Q. How can I post a comment with a text and a GIF?
Type in the text you intend to post first, then select your GIF. If you choose your GIF first, the GIF will be your comment.
Q. Where can I post my GIFs on Facebook?
Facebook allows you to post GIFs on your status, profile picture, comments on your Facebook business page, and Facebook cover video.
---
Final Word
Posting GIFs on Facebook should not be a hard nut to crack. Start making your posts entertaining and memorable by practicing the steps above to insert your favorite GIF on your posts. With that said, we've come to the end of this post. We hope you found it very useful. If you have any questions or suggestions, drop them in the comments section down below.